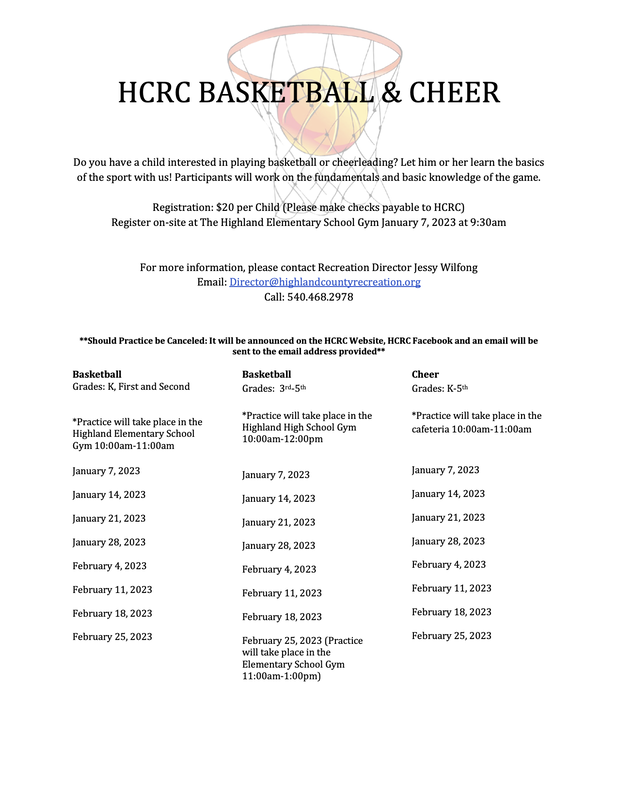 ---
HCRC BOARD MEETING:
Monday, January 23, 2023 at 7:30pm
Highland County Public Library

​
---
Highland County Recreation Commission's Mission Statement
It is the mission of the Highland County Recreation Commission to provide and promote recreational opportunities through development, implementation, and maintenance of facilities and programs for all citizens of Highland County.
​
The HCRC's Board of Directors including Laura Honaker, Chair; Mike Isles, Vice-Chair; Brittany Gumm, Secretary; Darlene Crummett, Treasurer; Karen Sweeney, Don Ferrel, Aaron King, Trey Williams, Colby Jackson, James Garrison, Morgan Hooke.

The HCRC operates on a very limited annual budget and supports recreational activities for all ages, all people and all interests in this most rural county east of the Mississippi River. County residents have enjoyed many activities through the HCRC. We also offer scholarships for families who cannot afford registration fees for youth activities. Your support ensures HCRC can continue to offer varied and fun activities for all.

The Commission takes pride in serving the community of Highland County and is constantly looking for ways to extend their services.


---
Disclaimer: During any of our programs, participants may be photographed by the HCRC staff for publicity purposes. If you do not wish to have your picture taken, please tell the staff photographer. ​